SE Kansas' EXCLUSIVE RhinoPro® Truck Bed Liner Certified Applicator!
Merle Kelly Ford in Chanute Kansas is Southeast Kansas' Exclusive RhinoPro® Truck bed Liner Certified Applicator, get your RhinoPro® installed today for $645.00. To schedule an appointment, fill out the forum at the bottom of the page, or call our body shop at (888) 269-5668.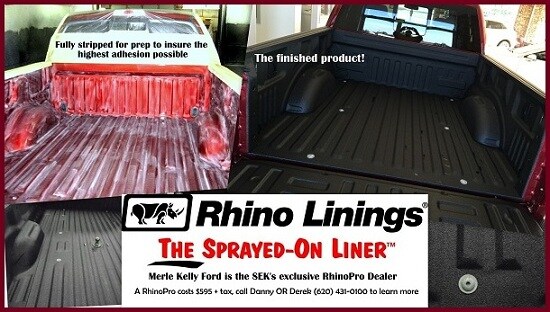 Merle Kelly Ford can provide you protection from bumper to bumper! RhinoPro­­®'s truck bed lining coating provides the highest level of protection for your truck bed, grille guards, bumpers, rocker panels and more. RhinoPro® spray-on coatings, if installed correctly is a permanently bonded protective barrier between your vehicle and the outside environment; protecting your bed from rust, dents, scratches and corrosion.

How we apply the RhinoPro® Truck bed Liner coating
Our certified body shop specialists are trained with the RhinoPro® Cartridge system. The Cartridge system is a dual component pneumatic applicator that is specially designed for applying our high quality RhinoPro® protective coatings. This process allows our certified specialists to apply a 100% coverage in seconds. This system runs solely on your standard air compressor which allows more even coats when applied.

Why you should choose Merle Kelly Ford to apply your RhinoPro® Truck bed Liner
At Merle Kelly Ford, we like to go the extra mile by removing all bed bolts before spraying as well as providing a prepping stage where our specialist go over the bed with a fine comb, sanding the bed and insuring the highest adhesion for your RhinoPro® lining.